In a landmark move, the United Automobile Workers (U.A.W.) and Ford Motor announced on October 25, 2023, a tentative agreement on a new four-year labor contract. This pivotal decision arrives amidst a backdrop of escalating labor tensions, marked by growing waves of U.A.W. walkouts, notably at Ford assembly plants in Michigan and Kentucky.
The proposed accord, which still needs to be approved by Ford's approximately 57,000 UAW workers, provides a 25% wage hike over the 4-1/2-year contract, starting with an initial increase of 11%. The UAW also succeeded in eliminating lower-pay tiers for workers in certain parts operations at Ford – an issue UAW President Shawn Fain highlighted from the start of the bargaining process, wearing T-shirts with the slogan "End Tiers."
DETAILS OF THE DEAL
The gains in the deal are valued at more than four times the gains from the last UAW contract in 2019, and provide more in base wage increases than Ford workers have received in the past 22 years, the UAW said in a news release. The union said the tentative agreement also includes:
Cumulatively raising the top wage by more than 30% to more than $40 an hour
Raising the starting wage by 68%, to more than $28 an hour
Providing a raise of more than 150% to the lowest-paid workers at Ford over the life of the agreement, with some workers receiving an immediate 85% increase upon ratification
Reinstating major benefits lost during the Great Recession, including cost-of-living allowances and a three-year wage progression
Killing different pay rates, or tiers, for workers
Improving retirement benefits for current retirees, those workers with pensions, and those who have 401K plans
Including the right to strike over plant closures
But in an unexpected move that adds pressure on GM and Stellantis, the UAW told Ford workers now on strike to return to their jobs during the ratification process. That means production of Ford Super Duty pickups, Bronco and Explorer SUVs, as well as Ranger trucks, could restart this week.
The Ford deal, which could help create a template for settlements of parallel UAW strikes against General Motors (GM.N) and Chrysler parent Stellantis (STLAM.MI), would amount to total pay hikes of more than 33% when compounding and cost-of-living mechanisms are factored in, the UAW said.
While the ink on this agreement has yet to dry, with ratification by union members pending, its implications are far-reaching. Not only does it set a precedent for Ford, but it also sends ripples throughout the automotive industry, potentially influencing negotiations with other major players like General Motors and Stellantis.
In statements, GM and Stellantis said Wednesday they are working to secure agreements as soon as possible.
Labor Protests Amplify the Urgency
The heightened labor situation has been hard to ignore. Emblematic picket signs declaring "Fair Pay Now" and "No Deal, No Wheels" capture the essence of workers' demands. Represented by the U.A.W., they seek better pay, superior working conditions, and an equitable share of the booming automotive industry's profits.
Rumblings of worker dissatisfaction and demands for better working conditions have been echoing across factory floors, hospitals, Hollywood studios, delivery services, and assembly lines. The UAW's campaign for a record contract converged with union efforts in Hollywood and at delivery giant UPS to win big pay increases. It also became the focus of attention by U.S. President Joe Biden and Republican rivals who see Michigan and other auto states as pivotal to their 2024 campaign strategies.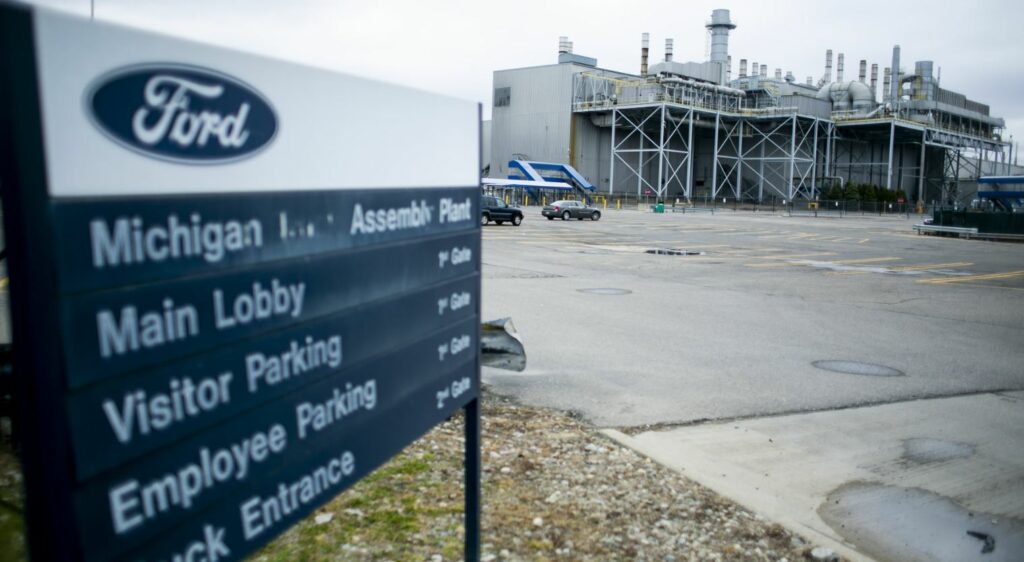 General Motors and Stellantis: In the Eye of the Storm
General Motors, no stranger to labor disputes, has been closely monitoring the situation with Ford. The tentative agreement between Ford and the U.A.W. might offer GM a blueprint for its negotiations. With a rich history of labor relations, sometimes tumultuous, GM knows the value of proactive engagement with its workforce.
On the other side, Stellantis, the multinational automaker resulting from the merger of Fiat Chrysler Automobiles and the PSA Group, also has its plate full. With a diverse range of brands and a vast global workforce, Stellantis faces unique challenges in navigating labor relations. The outcome of the U.A.W. and Ford negotiations might provide a guiding light for Stellantis as it seeks to harmonize its labor relations across different geographies and cultures.
Strategic Implications for Ford
Beyond the immediate labor concerns, Ford's tentative agreement has strategic dimensions. In an industry undergoing rapid transformation, with the rise of electric vehicles and cutting-edge technologies, ensuring labor peace is paramount. It allows Ford to channel its resources and focus on these pressing challenges, ensuring it remains at the forefront of automotive innovation.
The Bigger Picture: Industry Evolution and Worker Welfare
The automotive industry stands at the crossroads of technological innovation and labor welfare. As companies invest billions in research and development, the role of the workforce becomes even more critical. Skilled labor is a precious commodity, and ensuring their satisfaction and well-being is not just a moral imperative but a strategic one.
The tentative agreement between the U.A.W. and Ford could mark the beginning of a new chapter in labor relations. One where mutual respect and understanding drive negotiations, and both parties recognize the interdependence of their goals.
While the automotive industry races towards a technologically advanced future, it must ensure it doesn't leave its workforce behind. The U.A.W. and Ford agreement is a hopeful sign, signaling a potential industry-wide shift towards more harmonious labor relations. As other automakers like General Motors and Stellantis watch closely, the onus is on them to take the cue and engage proactively with their workers, ensuring a brighter future for all stakeholders.