What's the number one challenge candidates face when considering a job offer? According to LinkedIn's Employer Brand Statistics, their biggest concern is knowing what it's actually like to work for you.
Candidates are wary of big promises and over-hyped perks they're sold during the interview process. They want to know, when the rubber meets the road, what their day-to-day experience will be like as your employee.
So it's no surprise that 52% of candidates go straight to your social media profiles after checking out your website. They hope to find a more authentic, behind-the-scenes glimpse into who you are and what your company culture is like.
As candidates read online reviews and learn more about your company culture, they form an opinion about what it would be like to work for you.
That opinion reflects your employer brand. It demonstrates your reputation as an employer. And it can have a big impact on your recruiting and retention efforts.
Strong Employer Brands Attract the Right Candidates
Employer branding is quickly becoming the 'first date' of the hiring process. Candidates read online reviews, scroll through your social media, and assess your website before engaging in a conversation with your recruiting team.
What they find in their research matters. It will either discourage them from pursuing the opportunity, or they'll start to feel excited about the possibility of working for you. If you're known for being a positive workplace with employees who feel valued and respected, candidates will flock to fill your job openings.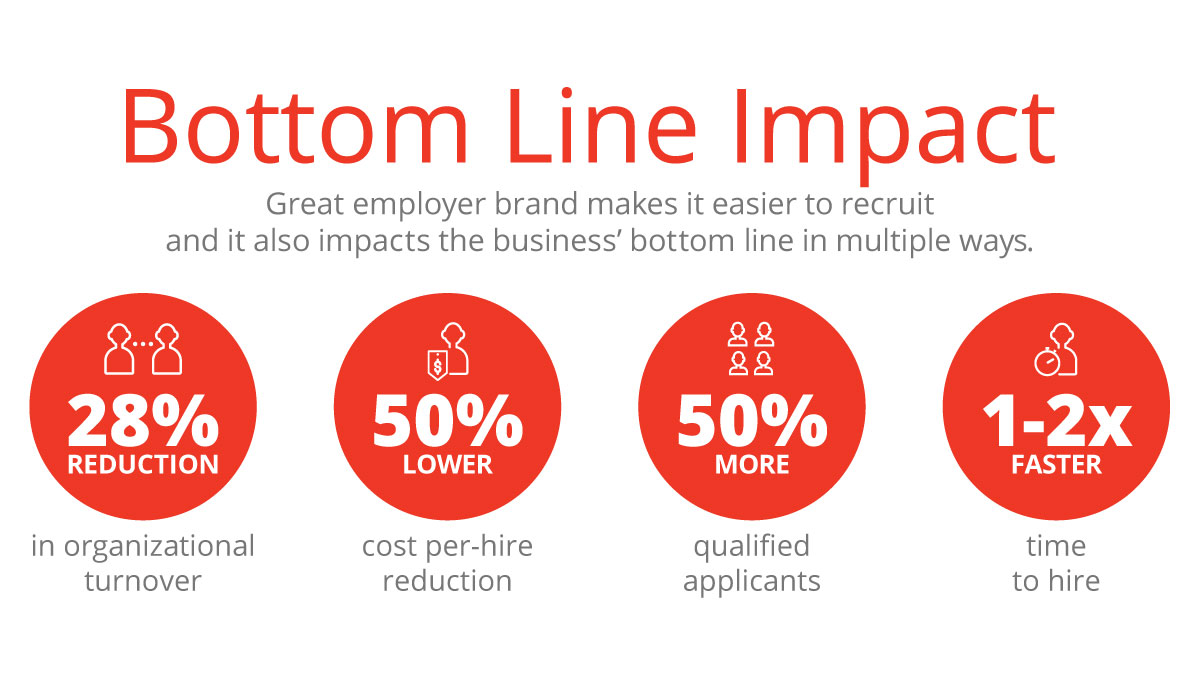 It's easy to understand why: candidates are increasingly concerned about where work fits into the larger picture of their lives. They know how to do their research and seek opportunities to work with employers who have a reputation for promoting employee well-being.
Smart employers control the narrative by curating what candidates find online. A comprehensive employer brand strategy takes time to develop, but a few easy places to start include:
Encourage current employees to leave online reviews.
Build an authentic social media presence — give "behind the scenes" looks and show what a day in the life of your employees is like.
Audit your current employer brand so you have a clear picture of where you're starting.
Increase Retention with a Strong Employer Brand
A strong employer brand not only saves you resources in the recruitment process but can also reduce turnover by up to 28%.
We can attribute this increase in retention to several factors:
1. Your employer brand will attract the right candidates for your organization. 
Find candidates that are a good fit for your company with an employer brand that accurately reflects your culture and values. According to the 2022 Job Seeker Nation Report, 32% of candidates who left their job in the first 90 days of employment cited a misalignment in company culture as their reason for leaving.
Your employer brand sets the expectation for your workplace culture long before candidates apply for the job. So it's essential that the perception of your workplace culture matches reality.
2. Employees feel a sense of pride when they work for a strong employer brand. 
Employees who feel like they're part of something bigger than themselves are more likely to stay with their organization. They're also more likely to recommend your company to others as a place where they'd want to work. This leads to greater employee retention and more qualified candidates coming through the door.
3. A strong employer brand shows that you have your employee's best interests at heart.
When employees feel like their employer has their best interest at heart, they feel more connected to the company, which in turn makes them more likely to remain with it. A great employer brand demonstrates that you're an organization willing to invest in its people and are committed to helping them grow.
Auditing Your Employer Brand
How your employees feel about you as an employer will become (if it's not already) public information as more people turn to online reviews. It's important to control the narrative and curate your reputation among the talent community.