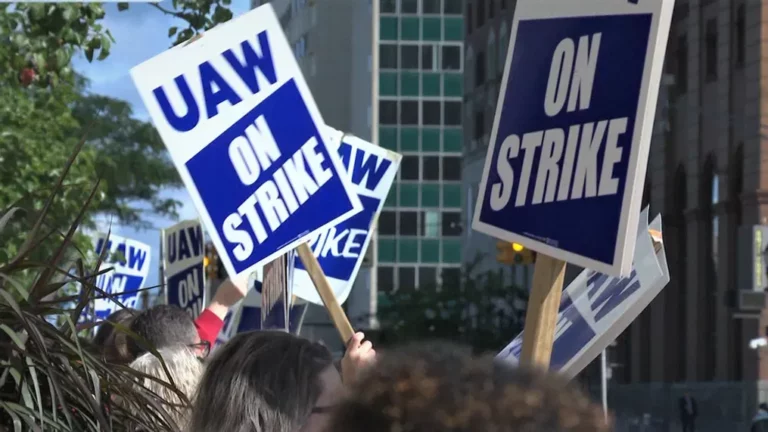 As the United Auto Workers (UAW) launched simultaneous strikes at General Motors (GM), Ford Motor, and Stellantis on September 15, 2023, it's essential to understand the historical context of UAW strikes and their potential consequences.
Historical UAW Strikes
The UAW has a rich history of strikes dating back to its early days. While the recent strike action may seem significant, it's not the first time UAW members have taken to the picket lines. Here's a brief look at some notable UAW strikes from the past:
1936-1937: Flint Sit-Down Strike: One of the most famous labor strikes in U.S. history, UAW members occupied GM plants in Flint, Michigan, demanding recognition and better working conditions. This strike marked a turning point in labor history and led to GM recognizing the UAW.
1970: UAW Strikes Ford: UAW workers at Ford went on strike in 1970, demanding higher wages and improved benefits. The strike lasted for 28 days, impacting Ford's production.
2007-2008: UAW Strike Against GM, Ford, and Chrysler: During the financial crisis, UAW members struck against the Detroit Three automakers to protect wages and benefits. These strikes had a significant impact on the industry during a challenging period.
2019: UAW Strike Against General Motors (GM): In September 2019, UAW members went on strike against General Motors, demanding higher wages, better healthcare benefits, job security, and a path to permanent employment for temporary workers. This strike was one of the largest against GM in over a decade, involving around 46,000 workers across the United States. It lasted for 40 days and resulted in concessions from GM, including wage increases, signing bonuses, and a path to permanent employment for temporary workers.
Impact of the Current Strikes
The current strikes, while smaller in scale than some expected, are not without consequences. Approximately 12,700 workers initially participated in the strikes, affecting the production of vehicles such as the Ford Bronco, Jeep Wrangler, and Chevrolet Colorado pickup truck. The looming possibility of a United Auto Workers (UAW) strike against Detroit's major automakers—General Motors, Ford, and Stellantis—comes with substantial economic ramifications. An analysis by the Anderson Economic Group estimates that a brief ten-day work stoppage could result in approximately $5.6 billion in losses.
Union Demands and Company Responses
The central issues in these strikes revolve around union demands for a larger share of profits generated by combustion trucks and stronger job security as automakers transition to electric vehicles (EVs). The UAW has demanded a 40% raise, while automakers have offered up to 20%, without agreeing to key benefits sought by the union.
Potential Consequences and Challenges
Financial Impact: Strikes can be costly for both sides. Automakers face production losses, while workers may experience financial strain. The longer the strikes persist, the more significant the economic impact.
Stock Market Response: The stock market often reacts to labor strikes, with shares of automakers fluctuating based on strike developments. Ford's stock was flat, GM shares gained .8%, and Stellantis shares closed up 2.1% in response to the strikes at market close on Friday, September 15th.
Supply Chain Disruption: Strikes can disrupt supply chains, affecting not only automakers but also suppliers and related industries, especially throughout the state of Michigan. This disruption can lead to delays and shortages, impacting customers.
Impact on EV Transition: The strikes coincide with the auto industry's shift towards EVs. While the UAW aims to secure jobs in this transition, the strikes could have implications for the industry's ability to adapt to the changing landscape.
Political Influence: Strikes often draw political attention, especially during an election year. President Joe Biden has expressed support for the workers' right to strike, emphasizing the need for fair profit-sharing.
Company-Wide Strikes: While the UAW has not initiated company-wide strikes yet, they remain an option if new contracts are not agreed upon. These strikes could have more extensive consequences.
The current UAW strikes are part of a long history of labor actions in the auto industry. Their outcome will not only impact the livelihoods of auto workers but also shape the future of labor relations and the auto industry's response to the EV revolution. As negotiations continue, the stakes remain high for both sides, and the nation watches closely. Everyone is hoping a deal that benefits everyone is hammered out soon and Detroit can get back to doing what Detroit does best.