Diamond Award winners have won the Best of Staffing Award for at least 5 years in a row, consistently earning industry-leading satisfaction scores from their clients.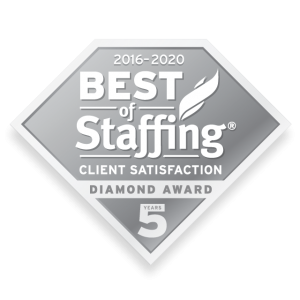 KALAMAZOO, MI – February 18, 2020– Workforce Strategies, Inc. (WSI), a leading staffing agency in Michigan, Indiana, and Ohio, announced today that they have won Best of Staffing Client Diamond Award for providing superior service to their clients for at least five consecutive years.
In cooperation with presenting sponsor, CareerBuilder, and gold sponsors Indeed and Glassdoor, ClearlyRated's ClearlyRated's Best of Staffing® Award winners have proven to be industry leaders in service quality based entirely on ratings provided by their clients. On average, clients of winning agencies are 3.3 times more likely to be completely satisfied with the services provided compared to those working with non-winning agencies.
Winners who earned the Diamond Award distinction have won the Best of Staffing Award for at least five years in a row, consistently earning industry-leading satisfaction scores from their clients. WSI received satisfaction scores of 9 or 10 out of 10 from 90.2% of their clients, significantly higher than the industry's average of 24%.
"Our teams work hard every day to make client satisfaction a priority and we are proud and honored to be recognized for our efforts in this way. Utilizing state-of-the-art marketing and branding initiatives along with an intense focus on measuring our impact on key performance indicators that benefit our clients is our differentiator" WSI President/CEO, Jeffrey O'Brien said.
"Now more than ever, it is important for staffing firms to deliver consistently remarkable experiences to the clients and talent they work with," said ClearlyRated's CEO Eric Gregg. "This year's Best of Staffing winners have shown their commitment to exceptional service, committing to not only measuring satisfaction, but taking action on the feedback. I couldn't be more proud to showcase these industry leaders alongside feedback from their actual clients and candidates on ClearlyRated.com and applaud them for their commitment to making improvements at their respective firms!"
Here's what clients are saying about WSI:
Jennie Negri, AbsoluteAire: "We've absolutely loved working with WSI. The market is tough right now finding qualified candidates but you wouldn't even know that working with WSI. So many fantastic candidates have been sent to us. Working with WSI's staff has been amazing. "
Angie Lynch, KENCO Logistical Services: "Great communication and understanding…very in tune with my company's needs."
Greg Kapus, Edwards Garment: "WSI has been a great business partner and brings people into our facility that fit our culture and consistently exceed in productivity. "
Steve Clement, Denso Air: "The local representatives have set themselves apart from other agencies by taking the time to bring people to the plant and have individuals view the specific areas they will be working in. There are few, if any, individuals who are surprised by any of the expectations. "
Alex Carter, Carter Associates: "I would recommend them to anyone with staffing needs."
About WSI
You know how they say actions speak louder than words? WSI is an award-winning staffing and recruiting firm because we understand the power of a positive and fulfilling workplace. We live and breathe it every day, and love helping others experience it too. Headquartered in Kalamazoo, Michigan, WSI also has offices in Battle Creek, Grand Rapids, and Sturgis, Michigan, northern Indiana, and central Ohio. Learn more about us at www.wsitalent.com.
About ClearlyRated
Rooted in satisfaction research for professional service firms, ClearlyRated utilizes a Net Promoter Score survey program to help professional service firms measure their service experience, build online reputation, and differentiate on service quality. Learn more at https://www.clearlyrated.com/solutions/.
About Best of Staffing
ClearlyRated's Best of Staffing® Award is the only award in the U.S. and Canada that recognizes staffing agencies that have proven superior service quality based entirely on ratings provided by their clients and job candidates. Award winners are showcased by city and area of expertise on ClearlyRated.com – an online business directory that helps buyers of professional services find service leaders and vet prospective firms – based exclusively on validated client and talent ratings and testimonials.