Even Darth Vader started out as an apprentice.
Michigan celebrates its vibrant apprenticeship culture during National Apprenticeship Week, showcasing a commitment to expanding opportunities and cultivating talent statewide. With an impressive standing—10th in population but 4th in registered apprenticeships nationally—Michigan's initiatives like Michigan Reconnect and the Michigan Achievement Scholarship are pivotal in fostering an educated, skilled workforce.
Apprenticeships in Michigan aren't just about learning; they're about earning as well. Apprentices receive a salary during their training, which combines practical experience with theoretical learning. This model benefits both the apprentice and the employer. For businesses, apprenticeships lead to the development of a highly skilled workforce, enhanced productivity, and profitability. They also offer flexible training options, minimize liability costs through proper training, and qualify for tax credits and tuition benefits in certain states.
Ten Types of Paid Apprenticeships in Michigan
Industrial Electricity and Electronics
Industrial HVACR (Heating, Ventilation, Air Conditioning, and Refrigeration)
Industrial Machining Technology
Industrial Pipefitting
Industrial Welding
Maintenance Technician
Renewable Energy
Nursing Assistant (CNA)
Phlebotomy
Retail Management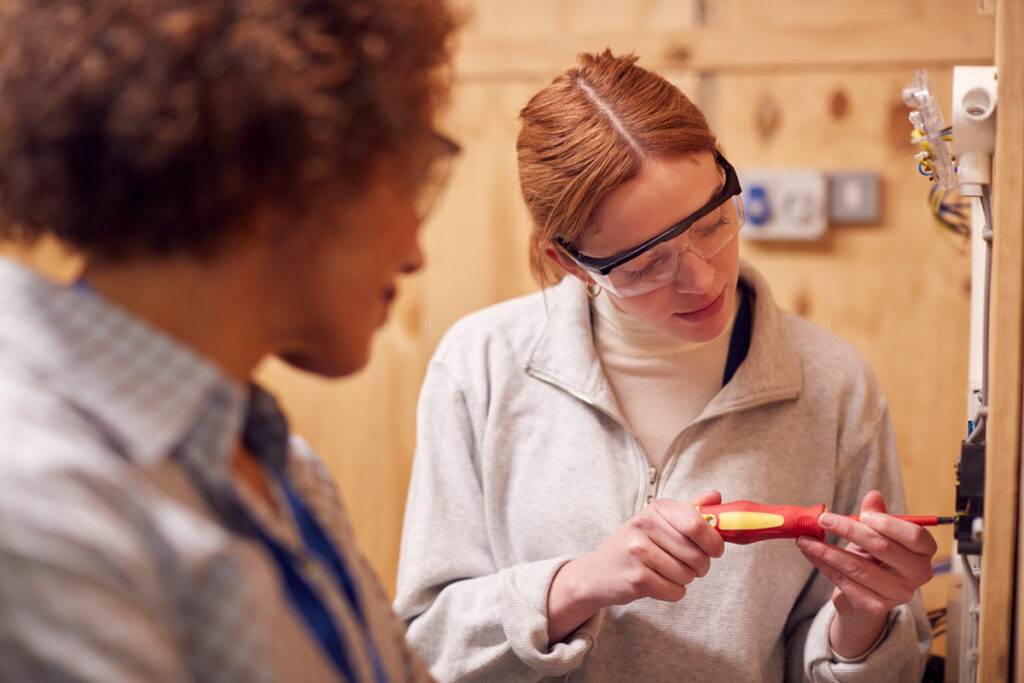 Five Reasons to Pursue an Apprenticeship
Hands-on Experience: Apprenticeships provide practical workplace experience, making you job-ready.
Recognized Certification: Completing an apprenticeship earns you a nationally recognized certificate.
Skill Development: They offer the chance to develop highly sought-after industry skills.
Career Advancement: Apprenticeships can lead to career progression and better pay.
Network Building: They offer opportunities to build professional networks in your chosen field.
Local community colleges like Kellogg Community College (KCC) in Battle Creek, play a pivotal role in this landscape, offering diverse apprenticeship and skills training programs. KCC's initiatives, such as the Innovative Accelerated Credentialed Training (iACT), are designed to quickly qualify individuals for local jobs. Their programs include forklift training, nursing assistant training, phlebotomy training, and more.
Kellogg Community College's (KCC) commitment stands out with its offerings in apprenticeship and skills training. Particularly noteworthy is the Kellogg Advanced Manufacturing Assembly Training, which equips students with both technical and professional skills vital for manufacturing roles. The program is free, ensuring that financial constraints aren't an obstacle to gaining a new job.
Michigan Reconnect plays a crucial role in this landscape. Aimed at individuals 21 and older, it offers tuition-free skills training and associate degrees, opening doors to lucrative careers without the burden of educational expenses. Similarly, the Michigan Achievement Scholarship significantly reduces the financial barrier for many seeking degrees, ensuring a broader reach of educational opportunities. Governor Whitmer recently (and temporarily) reduced the requirement age from 25 to 21. The program's deadline to apply is November 15th.
If you're looking to enhance your skills and advance your career, now is the perfect time to explore the wealth of opportunities and funding available. In 2022, Michigan residents with a high school diploma earned an average of $17,700 after one year of working compared to those with an associate degree who earned $39,700. The difference is huge and can be impactful over many of your core working years. So, let's not make National Apprentice Week just a Hallmark Holiday. Take action and stay the course!