Let's face it – not all staffing firms are created equal. That's why when it comes time to enlist the help of a temp agency – you should pick one suited for your unique needs.
As a job seeker, check these seven things off your list when choosing a staffing agency to work with:
They have openings in your field of interest
There are many staffing firms to choose from, so choose one with expertise in your field. If you're in search of clerical work – choosing an agency like WSI that specializes in industrial positions probably won't pay off for you in the long run. Double-check with your agency before coming in for an interview to make sure you're both on the same page.
They have an onsite representative
When navigating between your employer and agency, there can be some disconnect. It's important to look for a staffing firm that has a representative onsite at your company (Hint: WSI does). These representatives coach, counsel, and assist you with any questions or concerns you may have. They also are a huge help when it comes to onboarding and orientation procedures.
They don't charge for their services
Never sign with a staffing firm that asks you to pay for job placement. Reputable staffing firms don't charge job seekers for their services.
Fun Fact: Reliable agencies charge the employer for their services, not job seekers. Curious about other staffing agency myths? Head here.
They offer the option to be hired-in
If you're looking for long-term work, choose an agency with temp-to-hire opportunities. This means there's a greater chance you can be hired in permanently with good work performance and attendance.
Fun Fact: In addition to temp-to-hire, WSI also offers direct hire opportunities when available.
They offer benefits
Weekly pay, Medical benefits, vacation days, etc. These are all benefits you should look for in your job search.
Fun Fact: WSI offers all of these, plus incentive programs! Check out our latest Free Rent Referral Program.
Applying is a cinch
Besides the guidance, coaching, and connections working with an agency comes with, a streamlined process is one of their biggest advantages. Your agency should be doing everything in their power to make the process fast, easy, and relatively painless. Ask your Staffing Coordinator what the process will look like beforehand to ensure you're prepared for the next steps.
The reviews speak for themselves
The proof is in the pudding… or in this case, the Google Reviews. You can easily get a feel for other people's experience with the staffing agency by looking at the reviews left on the company's Google page. These reviews will give you perspective on the good, bad, and ugly from current and past associates.
Extra points if the company responds to reviews! Like this one from WSI 😉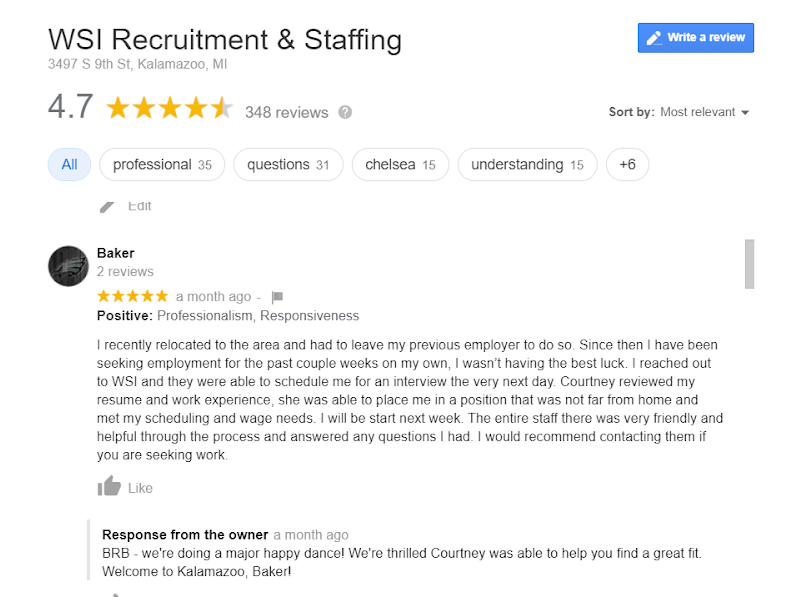 Choosing a staffing agency isn't rocket science, but it's a smart idea to give it some thought.
Any questions about what WSI offers? Head here.