Changing jobs is tough, but social media is a great way to find jobs and connect with hiring professionals. You can alert people of your search, sift through hundreds of postings, and access more advice. Here are some tips to make sure you're using Facebook Jobs, Indeed, and Google effectively while job-hunting.
Use Facebook to Spread The Word
Let people know you're looking for a job! Most people have several hundred "friends" on Facebook, so ask them for help. Go ahead and say, "I'm looking for new opportunities!" Be specific and tell them what type of job you're looking for. Even if your friends don't know of any positions available right now, your name will come to mind when an opening pops up.
And if you're worried about your current boss finding out that you're job seeking, don't make it a public post. Instead, private message people you know might be able to help out. Make sure your profile is updated and describes what you do so that anyone can check and get a mini-preview of what your resume might look like. And although you can always adjust your privacy settings, be careful that you're not broadcasting things you wouldn't want a hiring manager to see.
Facebook Jobs
Any company with a Facebook page can now publish a job posting just as they would any type of status update, and here at WSI we've seen a lot of activity by doing so. The post will appear under the "jobs" section, which you can link to from the left-hand menu on our homepage.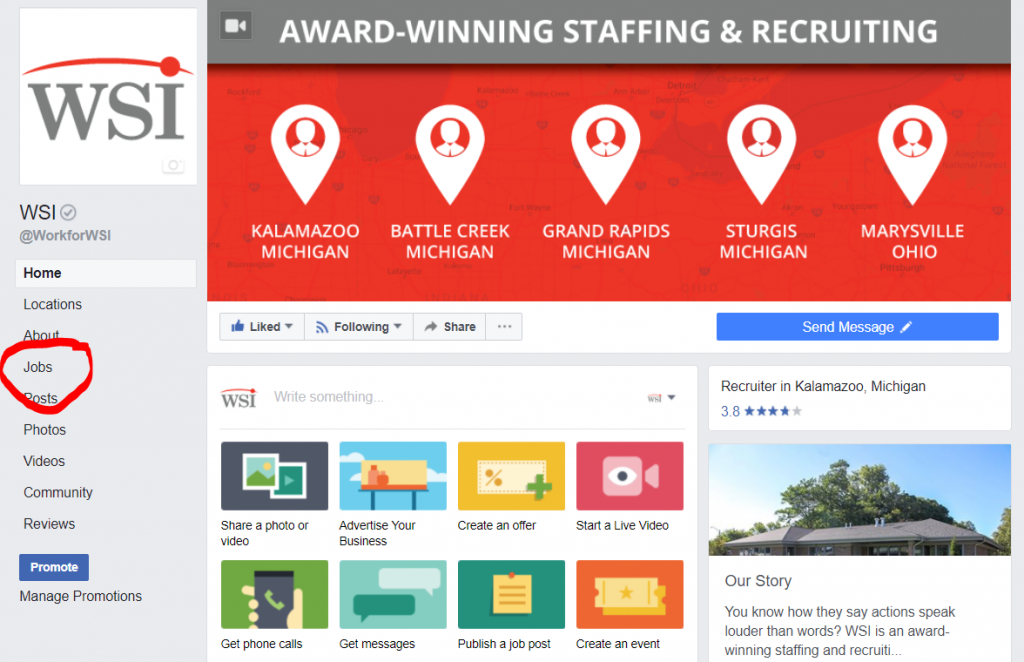 As you scroll through, you can quickly click "apply now" when you see something you like. Before you send the application that includes your name and any work and education history, you can edit the information and add a short cover letter if you like.
Indeed
Indeed.com collects jobs from employer sites, job boards, newspaper websites, and other online classifieds and sorts them into a giant database. Its search capabilities are powerful enough that you can find exactly what you want, even search specific job titles or specific employer at the same time you're searching for a preferred location, even by zip code. And if you're not that picky, you can also search something broader, like "part-time bookkeeper" or "maintain confidential records." WSI lists many of their current roles on Indeed, and you can even sign up for alerts whenever we post a new one. 
Google Job Search
New to the job search landscape is Google, where you can simply type what kind of job you're looking for in their search bar. Google serves as an aggregate job search listing, meaning they scour the internet and pull results from multiple websites, including company pages, staffing and recruiters, and job sites like Indeed and LinkedIn. Before you search for jobs on Google, you need to know the job you want and make sure you're searching the most commonly used job title. Likewise, search the specific location and other qualifying descriptions. The more precise and accurate your search, the better matched your results will be. Here, we searched "factory jobs Kalamazoo" and this is what showed up: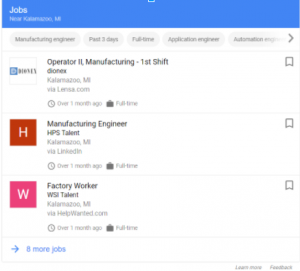 WSI
Shameless plug; of course we had to list our own website! Our job listings are updated constantly, and the advantage of applying directly from our site is being able to create an account with all of your information so that WSI staffing coordinators receive an automatic alert whenever your perfect job match appears.
Reviews are helpful…until they're not
As you do your due diligence and research companies on Google, Facebook, Glassdoor, or Indeed, a high rating is important and helps separate the best from the rest. Read the feedback carefully and pay attention to what themes emerge. If you read positive review after positive review, then they're probably a pretty accurate reflection of the company. While no company is 100% perfect (we are human, after all!) and negative experiences are par for the course for any organization, it's worth noting that a disgruntled employee might be just that—someone angry about some grievance, real or imagined. A good rule of thumb is if the majority of reviews are positive, then you've probably found yourself a pretty solid company.