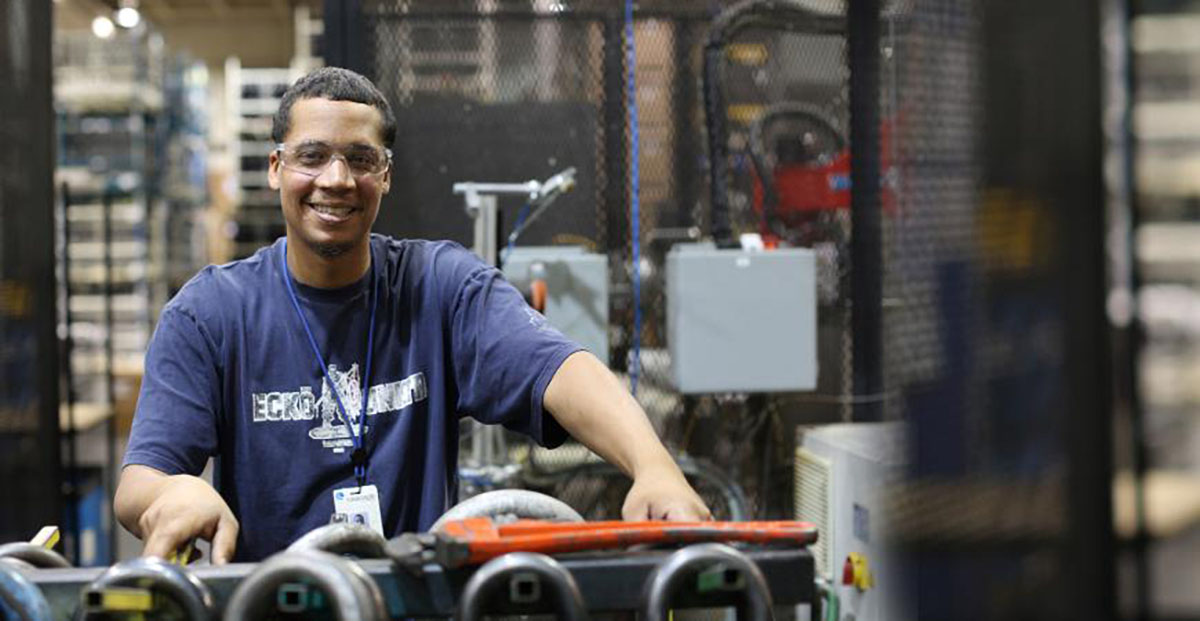 Cascade Engineering Affiliate Onboarding Information
Ron Jimmerson Plant & Training Center @ 5050 33 St. SE, Grand Rapids, MI, 49512
Orientation starts promptly at 7:30am. By arriving 15 minutes early you can check in, prepare, and get coffee and other items set for the day.
Enter through the main entrance.
****BRING ALL YOUR Staffing Agency Placement PAPERWORK ON 1ST AND 2ND DAY
New Employee Orientation
Lunch will be provided (however you are welcome to bring your own lunch if you would like)
Report to Elena or Sheila. You will be given a photo ID badge, sign in and explanation of next steps
Hours for orientation will be from 7:30am – 3:00pm
Dress Code / Appearance and Uniforms
General Guidelines:
Working clothes must be in good condition, no holes or tears
Shorts and skirts must be no shorter than 4 inches above the knee
Tank tops are allowed, provided that the straps are at least 2 inches wide
Shirts baring midriffs and/or exposing the chest are not permitted
Exposure of undergarments are not allowed
Items that create an intimidating, hostile or offensive environment may not be worn
ID badge should be worn at all times
On the production floor:
Safety glasses must be worn and will be provided – prescription vouchers available upon request
Substantial shoes are required – no open toes, open heel, sandals, or bare feet
Clothing including hats and other accessories, may not interfere with the ability to perform work
Orientation Schedule
Date of First day in plant:
Report to Front Line Leader:
Plant Name and Address: Shift Schedule / Time / Team
Position:
****BRING ALL YOUR PAPERWORK ON 1ST AND 2ND DAY
Who We Are: Cascade Engineering is a Family of Companies that invests in our triple bottom line philosophy – People, Planet and Profit. We have been in business for 50 years in Grand Rapids, Michigan. We manufacture injection molding/plastic products for automotive, office furniture, polymer compounding, waste and recycling industries. We focus on driving organizational excellence through a people centered leadership culture based on the principles of 7 Habits of Highly Effective People.
What We Do: Cascade Engineering specializes in injection molding. We produce automotive parts, office furniture, material handling polymer compounding, waste and recycling.
Location and plants: Cascade Engineering has 5 manufacturing plants, a main office, and 2 warehouses near the Grand Rapids Airport on 36th Street between Patterson and Kraft. North Plant, West Plant, Buursma Plant, Noble Polymers, Ron Jimmerson Plant and Training Center (formerly known as the 33rd Street Plant), and East Plant/Main Office.
What You'll Be Doing: You will focus mainly on Machine Operation while using hand tools and equipment to create high quality product while working safely. In addition, there will be some cleaning, visual inspection, packing and line work.
West Plant: We manufacture a variety of products ranging from small to large parts. One of our largest products is the dash mats which is used for acoustical
control in vehicles, this part is up to 6 feet long and sometimes takes two people to move it. The team works 8 hours shifts, 5 days a week and some weekends.
North Plant: This facility manufactures lids for the Buursma plant to complete the trash and recycling carts. Operators also make parts for various chairs for the furniture industry. These items range from 1.5 to 4.5 pounds. Pallet jacks are used to move crates when they are full. A unique part of this facility is that operators run 2 or 3 presses at a time, due to the items being smaller. It's important to understand that operators here do a fair amount of walking. These teams work 8 hour shifts Monday through Friday and some weekends.
Ron Jimmerson Plant and Training Center: This facility provides the training for all employees on campus and is an extension of the Buursma Plant in producing lids and wheels for our carts. This plant works 5 days a week, 8 hours a day and some weekends.
Buursma Plant: At this plant we manufacture trash and recycling carts for private and municipal haulers. These are the roll to curb carts you may have at your home. These teams make 32, 35, 64 and 96 gallon carts. The larger carts can weigh about 38 pounds and are 46 inches tall. With these specifications the work can be physical at times but the Buursma plant has a fun and dynamic team. We have rotating 12-hour shifts, most of the time only working 15 days out of the month.
Benefits:
Medical, Dental, Vision Insurance – Starting on Day 1 Life Insurance (Company Paid and Supplemental) 401K with match – Starting on Day 1
Quarterly Bonus Program
Paid Time Off
Employee Assistance Program
Short and Long Term Disability (Company Paid)
Perks:
Weekly Pay
Flexible Hours & Scheduling Attendance Recognition Program
Voucher programs for Safety Shoes and Prescription Safety Glasses Employee Discount Programs
Employee Referral & Retention Bonus Program
Adoption Assistance Tuition Reimbursement Free Uniforms / T-shirts
Smoking Cessation Products and Programs
Attendance Policy:
Affiliate Attendance Line: 616-975-4990
Press 1 for Ron Jimmerson Plant and Training Center
Press 2 for Buursma
Press 3 for North Plant
Press 4 for West Plant
Attendance points are incurred when an employee is absent, tardy, or leaves before the end of their scheduled shift. Points are cumulative during a 9 month rolling calendar year, and will follow the corrective action steps listed below. Points are accumulated as follows:
½ pt = absences of half (4, 5, or 6 hours) or less of a regularly scheduled shift (tardy or leaving early).
1 pt = absences of more than half of a regularly scheduled shift.
A regularly scheduled shift is defined as scheduled work days and hours, including required overtime and classes.
Absences of three or less consecutive days (for personal illness or injury), will be considered 1 point for attendance purposes, if an employee voluntarily supplies a doctor's note to verify the absences. When consecutive absences extend beyond three days, employees should inquire about FMLA/STD eligibility. Extended leaves will not covered by a doctor's note.
One-half (1/2) attendance point will be marked on an employee's/affiliate's record for each missed medical treatment or appointment required by medical personnel for a work- related injury.
If an employee/affiliate is unable to attend an appointment, they must reschedule before the beginning of the appointment in order not to receive an attendance point or incident.
Affiliates under 90 days MUST maintain a balance of less than 3 points. Additional points will result in ending the work assignment.
Meet your HR Representative!
Stephanie Schoenherr
Director of HR Operations (West Plant)
616-875-4814
Linh Duong
HR Manager (North Plant)
616-254-4146
Ally Skrzypczak
HR Generalist (Buursma and RJTC)
616-254-4156
Elena Van Drie
Recruiting Manager (East Plant)
616-975-4704
Kara Reniger Recruiter (East Plant) 616-254-4100
*Please don't hesitate to reach out to your HR representative if you have questions!
Welcome to the Cascade Family! We are EXCITED you joined the team!
WSI Account Manager: Taylor Johnson
(269) 215-0200
WSI Account Manager:
Taylor Johnson
(269) 215-0200
*1st shift reports at 7am on first day*
*1st shift reports at 7am on first day*
Call Off Numbers
WSI: (269) 488-5100
(24 Hour Number)
Summit Polymers:
(269) 649-4900
Download essential onboarding materials here. Select forms will require a signature, and will need to be returned to your WSI representative before an an assignment can begin.

Orientation Materials
All you need to know to get started!

Badge Deduction Agreement
Required before your first day.

Drug-Free Workplace Policy
Important need-to-know information.

Summit Polymers Community Message Board
Visit our forum to receive the latest updates, share stories, make requests, offer services and be part of the Summit Polymers community.
Earn Unlimited Bonuses with WSI's Referral Program!
Become a WSI Referral Ambassador in less than 60 seconds. It's easy! If you introduce someone to WSI who is looking for a new job and we place them on assignment, you'll get $100 once they complete 80 hours of work.