Ten days. That's how fast you, as an employer, have to hire for a position if you want to catch the top talent in your industry. Of course, there is a fine line between making the process streamlined and efficient, and rushing through only to make a bad hire.
Most companies' hiring process takes 27 days on the low end and up to 90 days on the high end. This is set up through the traditional process of advertising a position, reviewing candidates who fit the description, and then the interview process begins. It's usually an initial phone interview, followed by one or two in-person interviews, a review internally of final candidates, making an offer, the candidate making a counteroffer, and finally—hiring your 'perfect' candidate. Imagine going through all of that only to lose the candidate in their first year, or even worse, find no one to fill the position at all.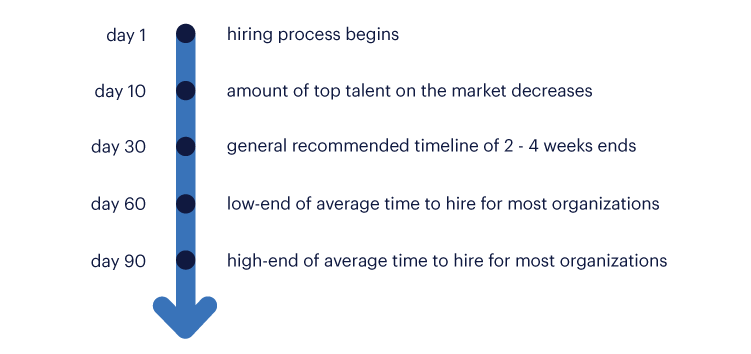 Google has begun pivoting towards a faster hiring process. They realized that after working so hard to optimize the hiring process, they had too many steps in the interview process, and therefore brought the number down to four steps. This includes multiple on-site interviews of a candidate in a single day by different teams back-to-back. Hubspot makes every new hire suggest a way to improve the hiring process.
Speeding up your interview process will help draw in the best candidates, ease your staff's burden of carrying the load, and increase your operation's overall productivity. Here is our countdown of the top five ways you can speed up the process in your business.
5. Pay attention to red flags. You can reduce the numbers of resumes you're searching through and candidates who might not fit your work culture by following your instincts when it comes to the 'red flags'. The basic things like showing up late to the interview, dressing inappropriately, talking too much, offering vague or non-responsive answers, coming off as arrogant, combative, or defensive are all signs that your candidate may not be a great fit.
Conversely, it's good to ignore some outdated flags, like gaps in work history due to COVID or other life circumstances. Right now is also a time to cut candidates some slack about their tenure at previous positions as so many people have moved around in the last couple of years during The Great Resignation. You might be the opportunity they have been looking for! This is especially true in manufacturing where wage increases have been a huge motivating factor for employees to switch jobs, sometimes more than once.
Another traditional red flag that we now disregard at WSI is the presence of THC in our drug screening process for applicants. Most of our clients in Michigan, where recreational marijuana is legal, have continued to find success in hiring great associates by eliminating THC from the drug screen. However, we will screen for it up request from our clients. And remember, in states like Indiana, where we also operate, marijuana is illegal.
4. Make a plan before there is an opening. One of the sayings we have here at WSI is "Nobody plans to fail." If you take the time to come up with a comprehensive workforce hiring strategy early, it could drastically cut down on how long your hiring cycle is. Some best practice recommendations include assigning dedicated resources on your HR team to forecast future talent needs and to have a strategy for how you will attract ideal candidates for the open positions. Having excellent screening questions in the applicant tracking system can ease the workload for your hiring manager as well as eliminating candidates who are not a fit.
Just because a candidate doesn't get the job doesn't mean you should disregard them. Those candidates are key for creating a talent pipeline for your business. Build a database and continue to market to them to strengthen your brand identity. Staying on their radar means they could be likely candidates again in the future and a pool of talent you can turn to immediately.
Once you've made a hire, take a moment with your team to evaluate your plan of action and see what you can do to simplify the hiring process.
3. Strengthen your brand identity. Some of the most successful factories and warehouses can fill positions very quickly based on their name and reputation alone. They may not have the highest wages, but their work culture, benefits, and opportunities to grow continually draw a great field of applicants. Reputation matters. Just because someone doesn't apply for or get hired for a position the first time, doesn't mean they won't next time if you continue to show them why you're an exceptional place to work.
When you decide who you want to hire, make sure to follow up and let those unsuccessful candidates know. This information provides closure on a role and allows them to return to their job search. Staying in contact with interviewed candidates is so rarely done that, even when you are delivering "bad news", you are still presenting your company in the best light.
For the employees that get the job, the entire experience from A-Z (hiring to onboarding and onward) needs to be seamless so that employees are excited about working for your company right off the bat. They're more likely to spread the word about how great it is to work for you.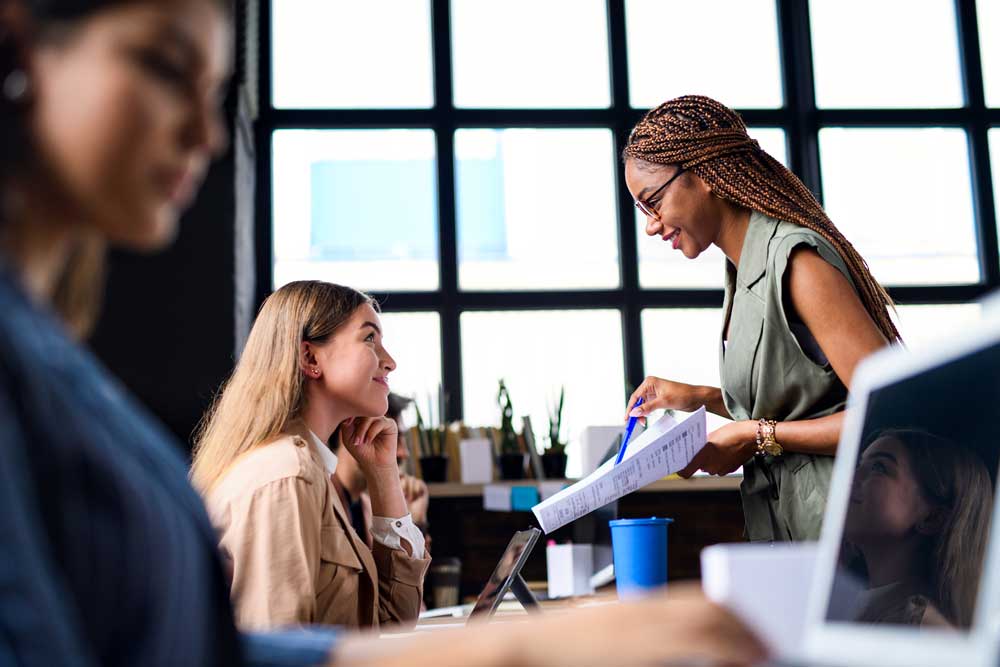 2. Utilize your current staff. Who better to fill a role than someone you know who has the soft skills and has shown the ability to learn and grow with your business? When creating your job descriptions, write a version specifically targeting your current employees, encouraging them to grow within the organization. Be sure your team understands that the search net is being cast far and wide for the best candidates, but they should always apply for positions that they think would be a great fit for them.
Look to your current staff members as your best source of referrals. Most people tend to hang out with people who are a lot like them. So if you're comfortable with the demeanor of an employee, chances are you can find similarly motivated and competent associates just by asking around the warehouse or office. It can also be a great way to motivate the staff to ease their own workload by getting someone hired faster.
Former employees can be a great source to fill jobs as well. Rather than looking only at brand-new candidates, your pool of previous workers may already have the experience and qualifications for the roles you need to fill.
Another way to utilize your current staff is to create a development program. Continually cross-train your staff and offer chances to learn about opportunities outside of their daily responsibilities.
1. Hire a staffing agency. It is not self-serving to say that hiring a staffing agency can be the fastest way to fill your openings. If you're an HR manager or hiring executive and haven't used a staffing agency because you might be concerned with costs, you should realize that any costs are more than offset by the increase in quality candidates and a reduced timeline for hiring.
WSI has a pool of qualified candidates and is constantly looking for the best in class talent. We work closely with our clients to understand specifics of a role and we accurately portray that to qualified candidates. We do this by sending candidates from our pre-existing talent pool, handling background and drug screens, and utilizing the latest HR software technology to get more qualified applicants.
If you're ready to speed up your hiring process, contact us by clicking here.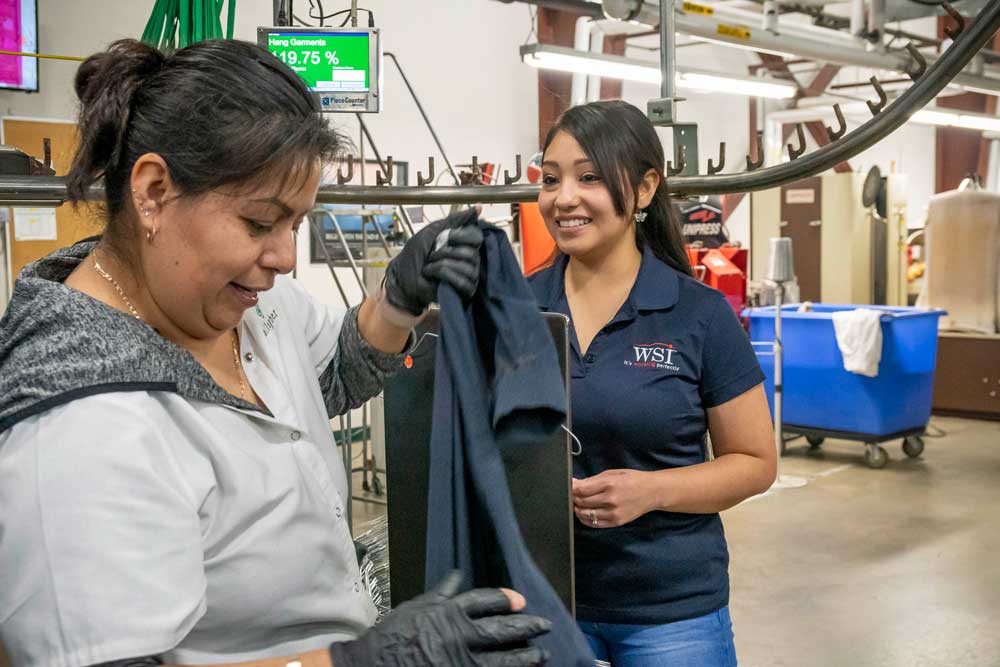 Don't miss out on the best possible employees for your operation. Be prepared, have a plan, utilize your current employees, and continue to strengthen your brand identity to all applicants for your positions. The best candidates are looking…but not for very long.